Interview: How Salam Fayyad plans to save the Palestinian dream
Palestinian Authority Prime Minister Salam Fayyad brought the PA back from the brink once. Now he wants to create Palestinian settlements, in effect, to counter Israeli moves.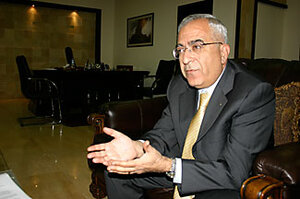 Ilene R. Prusher/Staff Writer
Palestinian elections are scheduled to be held in less than three months, but the prime minister of the Palestinian Authority (PA), Salam Fayyad, isn't concerned about running for office.
Rather, he's set his sights on a longer-term platform: establishing a Palestinian state by 2011 – a goal he outlined recently in a clear, well-organized booklet titled "Palestine: Ending the Occupation, Establishing the State."
"All I'm campaigning for is the two-year statehood program," said Dr. Fayyad in an interview Sunday. "The idea is unabashedly that two years down the road, we will have something that will look like a Palestinian state."
His office, sleek and ultramodern, seems to capture something of the man who is trying to save the Palestinian dream from collapse. And unlike workspace of most Palestinian politicians, the dominant photo is not a portrait of PA President Mahmoud Abbas or legendary Palestinian leader Yasser Arafat – but rather, a grand, old olive tree. It seems fitting that this, the Palestinian symbol of connection to the land, is what Fayyad sees when he looks up from his desk.
His two-year plan that many would deem unreachable seems to be a riff on the famous quote from the 1989 baseball movie "Field of Dreams": "If you build it, they will come."
"If we don't build it, who will?" asks Fayyad, enthusiastically. "We want to build an infrastructure that will aid in ending the occupation. I view this as a mission, not an occupation," he says. "You know, the other kind of occupation," he smiles, showing off his fluid command of English, honed as a PhD student in economics at the University of Texas.
---