Following murders, Israelis ask if immigration laws too lax
Peace talk efforts notwithstanding, Israelis have been transfixed by a series of high-profile violent crimes committed by two immigrants. Critics question if the door is open too wide to Jews wanting to live in Israel.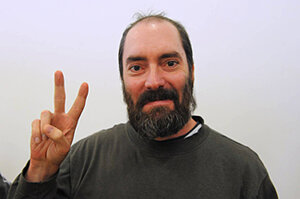 Reuven Castro/AP
Intense diplomatic efforts aimed at resurrecting peace talks notwithstanding, the issue currently transfixing Israelis is how to come to grips with a series of high-profile, deeply violent crimes committed by immigrants.
In the past week, the arrests of two émigrés accused of multiple murders have pressed Israelis to rethink national priorities and relatively lax immigration laws.
In both cases, the alleged perpetrators had previous records in their countries of origin – Russia and the United States – one of them the subject of an open extradition request that Israel never fulfilled.
First came the news late last week of the arrest of Yaacov (Jack) Teitel, an immigrant from Florida who'd been investigated for murder in the past in the US. Mr. Teitel is accused of the murders of two Palestinians, two Israeli policemen, and a string of other hate crimes, including letter-bomb attacks that targeted left-wing intellectuals and Messianic Jews.
This week, police said Russian immigrant Damian Karlik had confessed to the massacre last month of six members of the same family, including two grandparents, two parents, and two children under the age of 3. But Karlik's lawyer now says he was forced into the confession after being tortured.
Is the door open too wide?
The murders have not only shocked the nation, but also prompted Israelis to ask whether the seemingly wide-open doors to Israeli citizenship – available to anyone with at least one Jewish grandparent – has made it too easy for those with a deviant past to find refuge here.
---