Lebanon's Hariri, Hezbollah form new government
Five months after a Western-backed coalition narrowly beat the Hezbollah-led opposition in in Lebanon's June elections, the two sides reached a deal Monday night.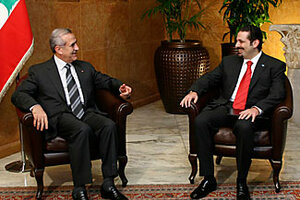 Mohamed Azakir/Reuters
Lebanon's feuding leaders have struck a deal on the formation of a new government – five months after a Western-backed coalition secured a narrow electoral victory against the Hezbollah-led opposition.
The formation of a national unity government, which includes two members of Hezbollah, could usher in a period of stability for Lebanon as it attempts to chart its way out of five years of political turmoil and bloodshed.
Many challenges remain, however, not least the tensions over Hezbollah's continued armed status, which was highlighted again last week with Israel's seizure of a cargo ship carrying 500 tons of weapons and ammunition allegedly destined for the militant Shiite group. Lebanon also remains caught between regional rivalries and the divergent interests of Syria, Israel, Saudi Arabia, and Iran – factors that analysts say will virtually paralyze foreign-policy decisionmaking by Saad Hariri, the prime minister designate, and his new cabinet.
"There will be a delicate balance in the country," says Sateh Noureddine, columnist for Lebanon's As Safir newspaper. "It will be able to resolve minor issues related to social and economic problems, but will not be able to deal with any big political issues related to Syria, Israel, Iran – anything related to the foreign policy of Lebanon."
'A chance to rise again'
---