Obama raps Israel over new Jerusalem settlement plan
Israel pushed forward a plan to expand an East Jerusalem settlement on Tuesday, bringing stark warnings from President Obama and other world leaders.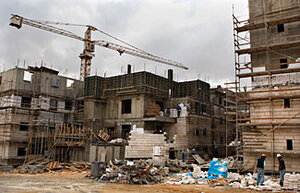 Dan Balilty/AP
Israel approved the expansion of a Jewish settlement in East Jerusalem on Tuesday, drawing criticism from US, British, and Palestinian officials.
On Tuesday, the City of Jerusalem's municipal planning committee approved the construction of 900 more housing units in Gilo. The area in southern Jerusalem is deemed by Palestinians and most of the international community to have been illegally occupied since it was seized by Israel, along with the rest of East Jerusalem, in 1967's Six-Day War.
President Barack Obama warned in an interview with Fox News on Wednesday morning that Israel's decision could lead to conflict.
"I think that additional settlement building does not contribute to Israel's security. I think it makes it harder for them to make peace with their neighbors," President Obama said. "I think it embitters the Palestinians in a way that could end up being very dangerous."
Also Wednesday, Israel bulldozed a Palestinian home in East Jerusalem after its owners failed to get a permit from the municipality.
The Gilo plan will now go through a few months of input, objections, and appeals from the general public, which means that the bulldozers aren't about to level ground yet.
But the very act of pushing such a plan forward has elicited a torrent of criticism from the international community and local peace activists, since it comes at a time when Israeli-Palestinian tensions have edged higher and diplomatic efforts have been faltering.
Eye on annexing settlements
The move to expand Gilo is one of several plans – some proposed but not approved – to build up the southern area of East Jerusalem as a way to connect it to with the Gush Etzion bloc of settlements south of the city. The existing Har Gilo settlement in the West Bank, for instance, is just a few miles southwest of Gilo.
---