Israel settlement freeze: Benjamin Netanyahu promises 10-month halt, angering allies
Prime Minister Benjamin Netanyahu promised a 10-month Israel settlement freeze on Wednesday in a bid to restart stalled peace talks. The move angered some of his domestic allies.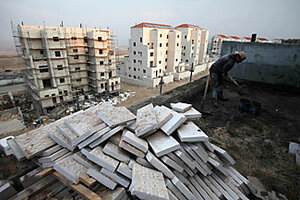 Dan Balilty/AP
In an attempt to jump-start Middle East peace talks, Israeli Prime Minister Benjamin Netanyahu called Wednesday for a c. Israel's security cabinet, one of the gatekeeping bodies on major policy decisions, approved the freeze with an 11-1 vote.
"We have been told by our friends that once Israel takes the first meaningful steps towards peace, the Arab world and the Palestinians will follow,'' Netanyahu said after winning the security cabinet's approval. "Well, the government of Israel has taken a very big step towards peace today, and I hope the Palestinian and the Arab world will work with us to forge a new beginning for our children and theirs."
Netanyahu indicated that such an announcement would be forthcoming following his last meeting with US President Barack Obama, who has been trying to push Israel towards a settlement freeze almost since taking office. The move was immediately met with criticism from several corners.
Several members of Netanyahu's cabinet belonging to Shas – a conservative, ultra-Orthodox party – boycotted Wednesday's crucial cabinet meetings in a sign of their disagreement. Settlers and their political supporters said Netanyahu was going too far, while Palestinians said he had not gone far enough.
"I think it's a complete crumbling of Netanyahu's position and is contrary to all of his electoral promises," Danny Dayan, chairman of the main settler lobby, told the Monitor. "He promised an end to unilateral steps, and here we see him after only a few months in office giving up, even though there is no reciprocity from the Palestinians."
---