After Dubai World debt panic, UAE guarantees all bank deposits
The United Arab Emirates central bank guaranteed all deposits in the banking system Sunday, seeking to calm markets made nervous by Dubai World's debt payment crisis. Asian markets rose Monday on the news.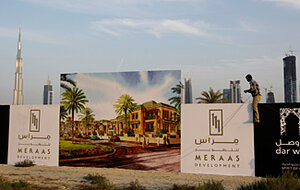 Kamran Jebreili/AP
The United Arab Emirates' central bank sought to reassure investors rattled by the debt woes of the politically-connected conglomerate Dubai World on Sunday with an announcement that it was backing all deposits in locally owned and foreign banks.
Asian markets were cheered by the news, rising more than 3 percent on Monday after falling by between 3 and 5 percent last Friday, though UAE stock markets fell by up to 8 percent on Monday on concerns over a deepening local recession.
"The statements of the federal government contributed to bringing confidence back into the global marketplace," says John Sfakianakis, chief economist at Banque Saudi Fransi-Credit Agricole Group based in Riyadh, Saudi Arabia.
The drastic step was taken because depositors were growing worried that defaults by Dubai World, which has sprawling port and property investments, could undermine much of the banking system. Dubai World said last Wednesday it could not make scheduled interest payments on $60 billion of debt.
While the property and investment bubble that drove the emirate of Dubai's prosperity in recent years has burst, Abu Dhabi – the oil-rich emirate where the UAE's central bank and government is based – remains one of the wealthiest spots on the planet, with enough financial clout to protect the country's banking system.
But analysts say that a careful parsing of the bank's statement also reveals that a full bailout for Dubai World itself may not be in the offing.
The company's chairman, Sultan Ahmed bin Sulayem, has been close to Dubai's ruling Al-Maktoum family and he had served on the board of the government's Investment Corporation of Dubai, which often led analysts to predict government help would be available if his businesses ever ran into trouble. But last week, Mr. Sulayem was fired from his post at the investment corporation.
---