The roots of Iran's nuclear program
It's quest to develop a nuclear program has taken a circuitous path through history – and includes early cooperation with the US.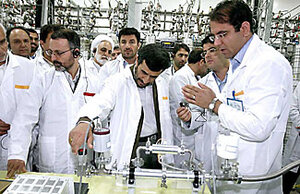 Government Handout/Sipa/Newscom
The head of the Orchid Office apparently thought he needed a little extra emphasis to make his point. The place was somewhere in Iran, shortly after Jan. 14, 2004. The occasion was a status report on activities of the Orchid Office – also known as "Project 111," Iran's effort to take a missile nose cone and outfit it with something that looks very much like a nuclear bomb.
The heart of the report was an update on such technical tasks as the development of a nose cone chamber of proper size. But the Orchid Office chief may have wanted to convey what he felt to be the historical importance of Iran's weapon activity. So he headed the first slide of his presentation with a motto, written in Farsi: "Fate changes no man unless he changes fate."
Fifty years after the shah first began to pursue nuclear energy technology, Iran's leaders may now be trying to change their nation's fate via acquisition of the most powerful weapons known to man.
Remember the "may." Tehran denies that it wants nuclear weapons, and says it is only interested in peaceful uses of nuclear energy.
The account of the Orchid Office report came from intelligence acquired by the United Nations International Atomic Energy Agency. That and other information in IAEA hands indicating weaponization activities is fake, says Iran. Iran's leaders may be split on the issue. It's possible – even probable – that they haven't yet decided whether to take the final step and actually produce a bomb.
---