Iran protests met with beatings, tear gas as Green Movement adopts new methods
Iran protests by pro-democracy advocates on National Student Day were attacked by security forces on Monday. The country's Green Movement has found new ways of organizing and keeping its message alive.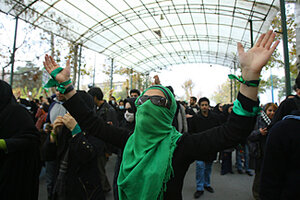 AP
In Iran, riot police clashed with thousands of protesters Monday in the latest round of demonstrations, which took place despite a concerted six-month effort by Iran's security services to stamp out the opposition Green Movement.
Witnesses said that at Tehran University, just one of several flashpoints in Tehran and other cities marred by violence, police used tear gas and batons, and plainclothes agents wielded electric stun-guns against students and other demonstrators throwing stones. Protesters chanted slogans against the security forces and "Death to the dictator"; passersby were beaten with batons in alleys off the main streets.
Iran specialists say the persistence of the protests in the face of powerful counter-measures from the regime indicates that politics in Iran has irreversibly changed.
"This is not a revolution, this is the commencement of a civil rights movement," says Hamid Dabashi, a prolific historian of Iran at Columbia University in New York.
Hard-line Iranian officials had warned they would "mercilessly" counter any attempt to hijack National Student Day — traditionally a regime-sanctioned day of anti-American protest, which commemorates the death of three students during anti-US demonstrations in 1953.
---