Skin whitening cream finds new popularity among Palestinian women
Palestinian women are using skin whitening treatments as popular media are reasserting a 'fair-is-beautiful' bid. But the message is not new and can be found even in old Arabic poetry.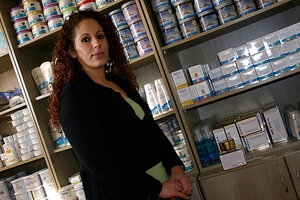 Ilene R. Prusher
At the Princess Center salon in downtown Ramallah, Shafa Usama has the "magic formula" that can make young women's dreams come true. After Ms. Usama subjects their visages to a long litany of peels and masques, they'll leave about $40 poorer – and a little paler.
"Women come here to be whiter.... We lighten their skin over many sessions, and then we try to focus on making it healthy skin as well," explains Usama, who, like most Palestinians, has lovely olive-toned skin.
The single 20-something hasn't decided yet if she'll get her own skin done, knowing what goes into it – the process needs to be repeated every three months – but she says it's the "look" almost everyone wants. "Palestinians believe that white skin is beautiful. In the West, they sunbathe to get darker skin, but here, people like to lighten their skin and they hide from the sun at all costs," she explains.
Her boss, salon owner Naim Abu Najim, says that professional whitening treatments are increasingly in demand. "Sometimes ... I tell them, 'you don't need whitening, you just need to take care of your skin.' I try to give them confidence in what they have, but they want something else," Mr. Abu Najim explains.
Still, he says that in the summertime, when women are more image-conscious because it's when weddings and other parties take place, the salon gets about 10 whitening clients a day.
This fight to be white appears to make a mockery of ethnic pride. It turns modern notions of political correctness on their heads. But it won't stop a Palestinian college student like Hanadi Suleiman from spending her limited spare change on over-the-counter whitening creams.
---