Israel and Egypt eye movement on peace process
Israel Prime Minister Netanyahu and Egypt President Mubarak met in Cairo and discussed the Israeli-Palestinian peace process ahead of a visit by US envoy George Mitchell. The two leaders also discussed captured Israeli soldier Gilad Shalit.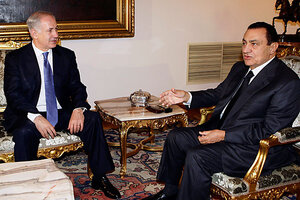 Tarek Mostafa/Reuters
---
Follow Stories Like This
Get the Monitor stories you care about delivered to your inbox.