Israel will consult legal advisers on future military action
The announcement that Israel will consult legal advisers before and during future conflicts suggests that Israel has undergone an internal assessment of the Gaza war and is hoping to improve conduct and preclude attempts at war-crimes charges.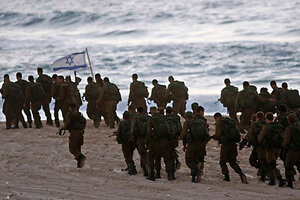 Amir Cohen/Reuters
After an overwhelming attack on Gaza by Israeli forces a year ago, the Israeli army was accused of contravening laws of war – including shelling of civilians with white phosphorus munitions, and destroying civil infrastructure like water purification and sewage plants, and even targeting a relatively remote egg farm that supplied much of Gaza.
Israel has insisted that the Israeli Defense Forces contravened no war-crimes laws in trying to stop Hamas missile attacks in its "Operation Cast Lead," as the war was called -- and it has refused the kind of self-review needed to block prosecutions of war crimes, either by third-party national courts or the International Criminal Court (ICC) at The Hague.
Yet a new directive by Israel's military chief of staff, Lt. Gen. Gabi Ashenazi, ordering future military operations to be attended by legal advisers, suggests that Israel has undergone some kind of internal assessment of the war, and is attempting either to improve conduct in future military operations or preclude future attempts at war-crimes charges.
"New rules suggest that Israel is trying to show, under the principle of command responsibility, that military leaders under battle are aware of their responsibility, and that subordinate soldiers are aware of principles set forth in the Geneva Conventions," says Mark Ellis, director of the International Bar Association in London. "I applaud the step toward responsibility, though it would not create immunity for Gaza."
---