Iran Green Movement promising big February protests
The opposition Green Movement in Iran is planning a series of large protests in early February, culminating in an attempt to co-opt a massive pro-regime march to commemorate the victory of the 1979 Islamic Revolution.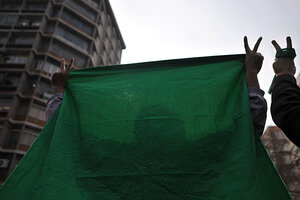 AP
Opposition Green Movement activists in major cities around Iran are playing a cat-and-mouse game with authorities seeking to shut down their operations ahead of Feb. 11, a revolutionary anniversary that the activists are hoping to use for the country's largest street protests yet..
"The whole future ... is at stake," said Shahab Mousavvat, a London-based exile who used to work for the state-run broadcaster Press TV. "Incremental actions are planned from the 1st through the 11th of February." Feb. 11, 1979, was the culmination of the Islamic Revolution that overthrew Iran's then-monarch, Shah Reza Pahlavi.
Demonstrators communicating via e-mail and cellphone are planning a week of "civil resistance." Since Monday, organizers have been seeking Green Movement supporters through SMS messages, patriotic video clips posted on the Internet, and slogans daubed on walls.
They're encouraging residents of large cities to shout "Allahu Akbar" from rooftops, and are planning a series of protest marches leading up to Feb. 11, when a major pro-government march is planned. Opposition activists say they intend to infiltrate that pro-government march in large numbers. Once in Tehran's Azadi Square, where state broadcaster cameras will be rolling, they plan to whip out protest banners and transform the crowd into a sea of green.
---