With mounting anger at Israel over assassination, Dubai walks a fine line
Dubai seeks to balance anger over speculation that Israel was behind the assassination of Hamas official Mahmoud Mabhouh at a Dubai hotel with its desire to remain a trade hub open to all, even Israelis.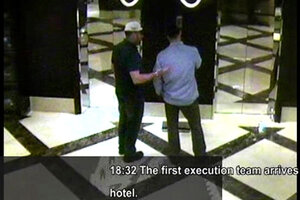 Dubai Police/Reuters
Dubai, United Arab Emirates
Beneath its forceful response to the assassination of Hamas official Mahmoud Mabhouh, Dubai is maintaining a delicate balance between catering to anti-Israel sentiment at home and winning international respect as an open and modern city.
Authorities here have gone so far as to threaten to arrest Israel's Prime Minister Benjamin Netanyahu if his country's Mossad spy agency is found responsible for the Jan. 20 murder here.
At the same time they have quietly kept up their minimal relations, allowing Israeli tennis player Shahar Peer – who was famously banned from a tournament in the United Arab Emirates last year – to enter the country to compete here this month.
"The Dubai government is trying to make as much as possible out of this with the Israeli angle. [The assassination] is very important for the people [even though] on a government and economic level [Dubai] is warming up," says Christopher Davidson, author of "Dubai: The Vulnerability of Success."
---