Iraq election: Young war generation yearns for old stability
Three million young people voting for the first time in Sunday's Iraq election will take their frustration to the polls.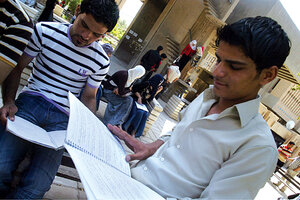 Getty Images
Fallujah and Baghdad, Iraq
Radio host Shahad Abdul Kareem, the rhinestones on her T-shirt and sequined headband sparkling, sits in the semidarkness of the Voice of Fallujah studio waiting for the generator to kick in so she can reach out to young listeners and find out what's on their minds.
In the run-up to the most important parliamentary elections since the fall of Saddam Hussein, members of this generation of first-time voters are not so much preoccupied with politics as with the difficulties of day-to-day life. Day after day, they pour out their miseries over Fallujah's airwaves.
"The first thing they mention is frustration," says Ms. Abdul Kareem, 25, whose name is an on-air pseudonym. The frustration stems from lack of jobs and lack of security. The second is the financial situation. One recent caller was a 32-year-old engineer who couldn't get married. Another was a young woman who hadn't been able to bathe for a week because there was never enough electricity to heat the water for everyone in the house.
"For us as Iraqi youth, we haven't seen anything nice in our life," says Abdul Kareem, who describes seeing shrapnel fly through her home before the battle for Fallujah.
Fallujah, west of Baghdad, was leveled in 2004 when US and Iraqi troops went into Al Qaeda strongholds. For the US, it was the fiercest urban fighting since the Vietnam War. For families, and teachers, and shopkeepers and their children, it was a nightmare. Whether disaffected Sunnis like those in Fallujah turn out to vote in March is key to the election's credibility and, eventually, to whether the country will hold together.
---