Move over American Idol: Hissa Hilal in finals of Arab reality TV poetry contest
Saudi poet Hissa Hilal competes, beneath a veil, for the $1.3 million prize Wednesday night in the finals of Million's Poet, a hit Arab reality TV poetry contest.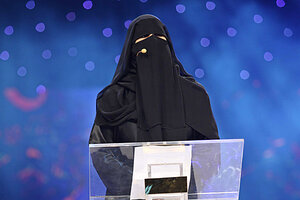 Abu Dhabi Authority for Culture and Heritage/AP
When Hissa Hilal takes the stage Wednesday night in the final episode of Million's Poet, a hit reality TV poetry contest, she won't just be competing for the $1.3 million grand prize. She's also marking the culmination of an extraordinary journey to use her poetry to combat the extremism that she says is suffocating the Arab world.
The Saudi Arabian woman has garnered praise and incited anger with her poems, which have unflinchingly and eloquently criticized religious extremism, in particular the fatwas issued by the Islamic religious establishment. And Hilal's rise to stardom comes amid a "perfect storm" of circumstances that make her message particularly effective in the current climate, says Marwan Kraidy, professor at the Annenburg School of Communication, University of Pennsylvania.
Hilal has steadily risen to the final round of the competition, an American Idol-like show filmed in Abu Dhabi, where contestants recite poems they have composed in a traditional style, and a panel of judges and the viewing audience vote on the performance.
"I feel that I should speak out," she says in a phone interview, describing the burden she felt to end the silence surround the issue of religious extremism in the Arab world. "Somebody should break the taboo, break the fear. After that society can start to talk about extremism."
---