Why Iran's Ahmadinejad is pushing to cut popular government subsidies
President Ahmadinejad is seeking to cut $40 billion in government subsidies to create, in effect, a slush fund that critics say will be used as a political tool to keep voters and his political allies happy.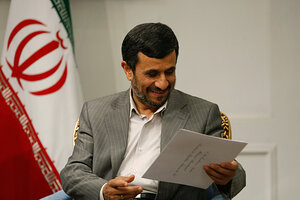 Vahid Salemi/AP
On the eve of his visit to the US next week, Iranian President Mahmoud Ahmadinejad has been pushing parliament to cut $40 billion in government subsidies. As Iran braces for fresh United Nations sanctions over its controversial nuclear program as well as a possible rise in inflation rates, the president seeks to convert the subsidy money into a slush fund with little government oversight.
The subsidies, which Mr. Ahmadinejad says benefit Iran's wealthy more than the poor, are slated to be replaced with monthly cash handouts to the mainly lower-income sectors of the population, with compensation currently estimated to be worth roughly 200,000 rials ($20) a person, according to local analysts. Critics say the president would use the funds as a political tool to bolster his position.
"There is the danger of dissent or discontent catapulting among the poor. They want to make sure they have enough money to deal with any sort of price rise that may result [from the cuts]," says a Tehran-based analyst, who spoke on condition of anonymity due to the sensitivity of the issue. "It gives the government an extremely free hand in serving its base constituency."
Iran spends $90 to $100 billion on annual subsidies
Though relations between Ahmadinejad and Iran's Majles, or parliament, were mercurial at best during his first presidential term, most Iranian lawmakers rallied behind the president after the country's contested elections last June. They reinforced their support for Ahmadinejad's administration in late October by backing controversial legislation to phase out subsidies for fuel, water, flour, bread, wheat, rice, oil, milk, sugar, and postal and transportation services by March 2014.
---