Egypt renews emergency law, but adds safeguards for civil society
Egypt today extended its 30-year emergency law until 2012, keeping it in place for a tenuous election season. It added safeguards intended to protect civil society, but human rights leaders dismissed them as meaningless.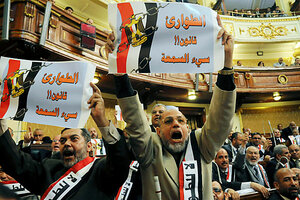 Mohamed Abd El-Ghany/Reuters
The Egyptian parliament today extended until 2012 the country's controversial emergency law, which critics say has stifled civil society. That keeps the 30-year law in effect as Egypt enters a tenuous election period during which the regime seeks to preserve its power.
But in an apparent attempt to placate the international community – particularly the US, which funnels roughly $1.5 billion in foreign aid to Egypt annually – the resolution included legal restrictions intended to safeguard civil rights. According to a government statement, the emergency law will apply solely to combating terrorism and drug trafficking, and would remove the government's ability to censor publications and monitor "all forms of communication."
"By law, these provisions and powers in this law will exclusively be used to issues of terrorism and serious drug crimes, so you've limited the scope significantly. The second thing that has to be read ... is the reduction of the number of powers," says Wael Aboulmagd, deputy minister of foreign affairs for the Ministry of Human Rights, who says that while mechanisms such as administrative arrest remain, they are "exclusively" limited to terrorism. "It is a very significant change."
---