Why Russia's Dmitry Medvedev is visiting Syria
Russian President Dmitry Medvedev is visiting Syria as part of a bid to raise Russia's Mideast profile. He discussed possible atomic energy development, and called on Hamas to release captured Israeli soldier Gilad Shalit.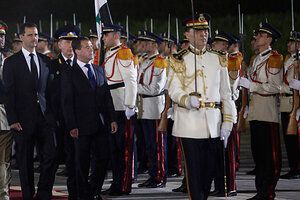 Hussein Malla/AP
Russian President Dmitry Medvedev spent part of his second day in Damascus in closed-door meetings with Syrian President Bashar al-Assad, signaling Moscow's interest in bringing former Soviet allies back into its orbit.
In a joint press conference Monday evening, Mr. Medvedev, the first Russian head of state to visit Syria, said that Russia's commitment to Syria was consistent despite "changes in the world." President Assad, for his part, was quoted as saying that his country would "never forget how [Russia] stood by us during the battle for the Golan [Heights]" with Israel. He also requested Moscow's continued support in demanding that Israel return the land it seized during the 1967 Six-Day War.
Both countries have much to gain from improved ties. Syria could strengthen its hand by drawing closer to its one-time ally, whose veto on the UN Security Council could prove key in any conflict with Israel. Russia, for its part, wants to bolster its presence in the Middle East, and could also further cool Syria's recent but waning interest in restoring diplomatic relations with the United States. Assad had welcomed several high-ranking US officials to Damascus recently, though his rhetoric toward the US remained critical.
---
Follow Stories Like This
Get the Monitor stories you care about delivered to your inbox.