Turkey sours on surveillance systems after alleged affair video
The resignation of Deniz Baykal, a major figure in Turkish politics, over a purported sex video has sharpened debate about whether Turkey's surveillance systems have been misused as smear weapons.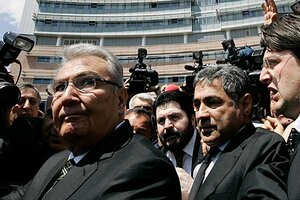 Burhan Ozbilici/AP
In Turkey's pervasive surveillance environment, even the prime minister is concerned about his phone being tapped.
"I'm not comfortable speaking over the phone," Prime Minister Recep Tayyip Erdogan told Turkey's private NTV news network last year. "I tell people who want to speak on the phone to come visit me."
Most Turks would not be surprised to hear that. In the past few years, hidden camera footage and wiretaps – both legal and illegal – have been increasingly used in investigations and as smear weapons between warring political camps in Turkey, unleashing an almost national sense of paranoia in the country.
"Turkey is a republic of fear when it comes to privacy," says Soli Ozel, a political analyst based in Istanbul. "This is a very dangerous situation."
Marital affair, or a national affair?
Most recently, video from a hidden camera posted to the website of an Islamist newspaper was used to topple Deniz Baykal, who resigned on May 10 as leader of Turkey's main opposition party, the secularist Republican People's Party (CHP), after the footage was leaked.
The video purported to show Mr. Baykal, a stalwart of Turkish politics who was leader of the party since 1992, having an affair with another member of the CHP. But analysts say that more than a personal issue, it's symptomatic of the erosion of privacy rights here in recent years.
---