Was Israel's raid on Gaza Freedom Flotilla legal?
Israel says its raid on the so-called Freedom Flotilla carrying humanitarian aid to the Gaza Strip, which left nine activists dead, was a justified defense of its economic blockade of Gaza. Legal scholars aren't so sure.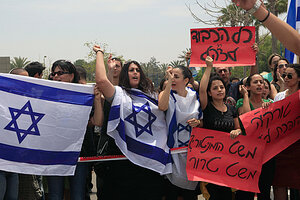 Tsafrir Abayov/AP
Days after Israel's lethal raid on the Turkish-led Gaza "Freedom Flotilla," international law is being wielded as a means of either justifying the operation or calling it outright piracy.
On one side, a Turkish draft resolution at the UN Security Council described the attack as a violation of international law. On the other, Israel's foreign ministry insists that international maritime law prohibits boats from entering an area subject to a maritime blockade and that vessels attempting to violate this may be captured or even attacked.
The debate is focusing global attention on the Israeli economic blockade of the Gaza Strip like never before, with questions being raised about the morality and legality of a three-year old blockade that Israel says is vital to its security but has led to medicine shortages, power outages, and, critics say, unnecessary deaths in the impoverished strip.
IN PICTURES: The Gaza flotilla and the aftermath of the Israeli naval raid
"The real question is: "Is the blockade itself lawful?'" says Douglas Guilfoyle, a specialist in international and maritime law at University College London. "Everything else turns on that."
---