Iran's Supreme Leader Khamenei warns opposition ahead of key anniversary
Just ahead of the one-year anniversary of Iran's disputed presidential election, supreme leader Ayatollah Khamenei told Iranians to be watchful for opponents. But he also has pardoned or commuted sentences in recent days for 81 detainees jailed during protests.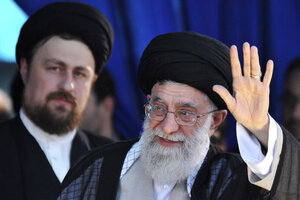 REUTERS/IIPA/Sajjad Safari
Iran's hard-line leadership warned the opposition movement against serving as "soldiers of the bullying powers" as the one-year anniversary looms next week of Iran's disputed presidential election.
Supreme leader Ayatollah Seyyed Ali Khamenei told Iranians Friday to be watchful for opponents who had strayed from the path of the 1979 Islamic revolution and the directives of one of the Islamic Republic's most sacred icons, its late founder, Ayatollah Ruhollah Khomeini – known affectionately among followers as "Imam," one of the highest ranks in Shiite Islam.
Widespread rejection of the official results of the June 12 vote, which installed President Mahmoud Ahmadinejad for a second term with an unlikely landslide, prompted cries of fraud and weeks of bloody street protests that killed scores and turned into the worst political crisis in Iran in three decades.
Khamenei warned that opposition protests were a "scandal" and "not acceptable," and that finally, Iranian unity behind the regime had "showed such great power it dazzled the whole world."
 "The followers of the Imam, and those who do not approve of the Imam's path and find it wrong, are easily distinguishable," Mr. Khamanei declared on Friday to tens of thousands of Iranians as they marked the 21st year since Mr. Khomeini's death at his mausoleum south of Tehran. State-run TV said "millions" of Iranians turned out on Friday to mourn Khomeini, but the live footage of the event appeared to show tens of thousands both inside and around the shrine compound.
---