Israel's easing of Gaza blockade doesn't address banking, travel rules
Israel's announcement yesterday of an easing of the Gaza blockade on civilians meets international demands. But the UN and other groups are waiting to see how much actually changes on the ground.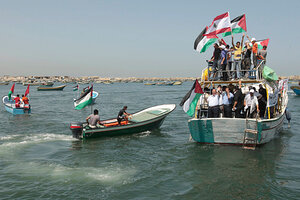 Ismail Zaydah/Reuters
Israel's decision to ease the impact of a three-year blockade on Gaza appears to have relieved diplomatic pressure on the Jewish state following the fatal intercept of a protest flotilla. But critics warn that the partial measure, which does not include lifting the naval blockade, may not be enough to revive Gaza's economy and relieve the distress of the 1.5 million Palestinians living there.
In the coming days, Israel will begin allowing thousands of types of civilian goods into Gaza, including building materials necessary for reconstructing infrastructure after last year's war with Hamas. Previously, Israel only allowed about 100 kinds of goods into Gaza.
The announcement by the Israeli government won praise from the US and Tony Blair, the envoy of the "Quartet" of international sponsors of the Arab-Israeli peace process.
COVER STORY: What drives Israel's Benjamin Netanyahu?
Israel hopes the move will deflate a push for an international investigation of the May 31 storming of the Gaza-bound "Freedom Flotilla" that left nine activists dead. International groups such as the United Nations and the European Union may reserve judgment to see how much the flow of goods increases under the new policy.
---