Iraq through the eyes of a tree healer
Jawad Kadhim is a third-generation date-palm tree doctor, one of a dwindling number in Iraq's capital. His job offers a unique window on how the sectarian violence has changed behavior in the various neighborhoods of Baghdad.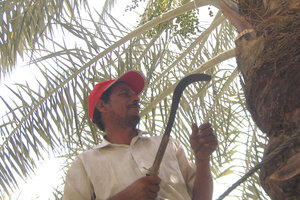 Hannah Allam/MCT/Newscom
Jawad Kadhim rides his rusty bicycle through Baghdad neighborhoods that have been transformed by violence, sealed off by concrete blast walls and emptied of their once close-knit inhabitants.
Fearful of being mistaken for a militant, he announces himself loudly at front gates and hides his ax when he makes a sales pitch. Every stop is a gamble in this new Baghdad, but Kadhim trusts that even the wariest and most traumatized Iraqis will protect a man who can heal the trees.
Kadhim is a third-generation date-palm gardener, one of a dwindling number in Iraq's capital, he said, because most consider it too dangerous to go door to door in a place where sectarian cleansing has dramatically altered the city's demographics.
"In this life, I rely only on God and palm trees," said Kadhim, one recent afternoon, callused hands folded in his lap.
No neighborhood is safe — his knocks on familiar doors are now answered by strangers, and at least 12 of his gardening friends have been killed.
He's sure that many of his longtime customers have been forced from their homes or were killed in sectarian battles, but he knows better than to ask questions. He has a job to do.
"I'm like a taxi driver. I pick up customers wherever I can," he said with a chuckle.
Through war, occupation, bombings and neglect, the Iraqi date palm has endured. Farmers on these lands have cultivated dates since the ancient times of Mesopotamia, and artists through the centuries have celebrated the palm tree's resilience and bounty. Iraqis still use every part, weaving rope from the fibers and baskets from the fronds, exhibiting a tenderness toward the trees that's incongruous with the harshness of everyday life.
"The blessed tree," Kadhim calls it, with reverence. But the date palm, like the country it symbolizes, has fallen on hard times.
---