As UN Gaza flotilla inquiry opens, a chance for improved Turkey-Israel relations?
The UN inquiry into Israel's Gaza flotilla raid, which left 8 Turks and one Turkish-American dead, opens today. Analysts say incentives are strong for both Turkey and Israel to repair their tattered alliance.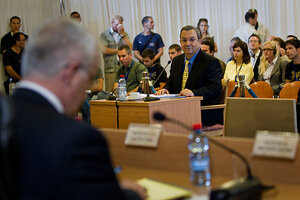 Bernat Armangue/AP
The UN investigation into Israel's Gaza flotilla raid that left 8 Turks and one Turkish-American dead opens today with Turkey insisting that Israel bears full responsibility for the deaths and Israeli Defense Minister Ehud Barak saying a Turkish aid group's attempt to breach the economic blockade of Gaza was a "deliberate provocation."
The UN investigation will start with Secretary General Ban Ki-moon meeting with the four-member panel, which includes both an Israeli and a Turkish representative. The panel will investigate the fatal Israeli raid on a Gaza-bound aid boat.
"I am grateful for the spirit of constructive engagement that has made this unprecedented panel possible," Mr. Ban said Monday, hinting at an Israel-Turkey rapprochement that both sides as well as common ally Washington seem keen to achieve. "I am confident that this initiative will contribute to regional stability."
IN PICTURES: The Gaza flotilla and the aftermath of the Israeli naval raid
Israel's participation in the UN probe is unprecedented, coming after years of criticizing UN bias and resisting intense international pressure to change its heavy-handed approach. But it also came with key conditions – among them, says Israel, Mr. Ban's agreement behind the scenes that the probe would not directly question Israeli soldiers.
---
Follow Stories Like This
Get the Monitor stories you care about delivered to your inbox.