For Hamas, an end to Gaza's tunnel trade may be only the beginning
As Israel eases the Gaza blockade, Hamas is positioned to strengthen its grip on the Gaza Strip. The Gaza tunnel trade that thrived under the blockade provided tax revenues and helped Hamas stay firmly in control.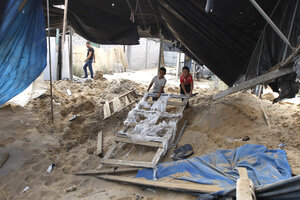 Said Khatib/AFP Photo/Newscom
Under the watchful eyes of both Egyptian border guards and Hamas tax collectors, more than 1,000 tunnels snake below the border between Egypt and the Gaza Strip. Since Israel and Egypt imposed a blockade on Gaza after Hamas took control in 2007, the tunnels underneath Rafah, a chaotic border town, have helped bring in everything from snack food and cement to a lion for the zoo.
Without this underground highway system, Gazans say they would not have survived the past three years of sanctions.
But the tunnel trade may be nearing its end. Trade has slowed considerably since June, when Israel began allowing more consumer goods into Gaza. Now Rafah's remaining smugglers mainly bring in cement, cars, and construction materials that remain banned. Once-busy tunnels sit unattended; the plastic tents that used to hide them have become tattered and flap in the wind.
Though the blockade was designed to weaken Hamas and its ability to strike Israel, it's now clear that the blockade helped the group strengthen its grip on Gaza. In addition to providing much-needed goods and supplies, smuggling provided tax revenues for the government. The result is a Hamas government that remains firmly in control.
---