Iraq attack on US soldiers shows ongoing vulnerabilities
In what appears to be the first attack on US soldiers after the official end of combat operations, a man thought to be an Iraqi Army soldier killed two American soldiers and wounded nine others.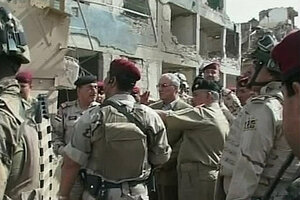 APTN/AP
US and Iraqi officials are investigating the killing of two American soldiers and the wounding of nine others at an Iraqi Army base in what appeared to be the first attack on American forces since President Obama declared the end of the US combat mission.
"A preliminary review of reports from the scene indicates the attack was a deliberate attack," the US military said in a statement about the killing at an Iraqi Army compound near the town of Tuz Kharmatu, south of Kirkuk.
An Iraqi Defense Ministry spokesman who told Agence France-Presse that the shootings were the result of a sports quarrel on Tuesday retracted those remarks, increasing the likelihood that the shooting had been pre-planned.
The US military said it was trying to clarify exactly what happened when a man who appeared to be an Iraqi Army soldier opened fire on a group of soldiers protecting a US Army captain. The captain, a company commander, was meeting with counterparts from Iraq's security forces.
The gunman, who appeared to be part of an Iraqi Army commando unit, was killed when soldiers fired back.
Renamed mission
The last US combat brigade pulled out of Iraq two weeks ago to comply with President Obama's pledge to reduce troops here to 50,000 by Sept. 1. On that day, US forces renamed their mission here, from Operation Iraqi Freedom to Operation New Dawn, in line with their mandate to advise and assist Iraqi forces.
---