What Pakistan wants: US aid
Flow of US aid and presence of its troops serve Pakistan's long-range aim of thwarting its archenemy, India.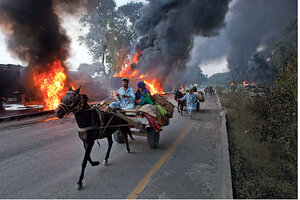 Adrees Latif/REUTERS
Islamabad, Pakistan; and Boston
Events of the past few weeks have been a reminder that the road to winning the war in Afghanistan winds through Pakistan.
To some extent that's literally the case: Pakistan closed a key supply route for the US-led NATO effort in Afghanistan after a US helicopter opened fire on a Pakistani border post on Sept. 30 and killed three Pakistani soldiers.
Since then, an angry Islamabad has relaxed security on its side of the border and Taliban-linked militants have descended on NATO convoys backed up near the closed Torkham crossing, the gateway to the Khyber pass into Afghanistan. They've burned dozens of fuel tankers and trucks and killed at least three of their drivers.
The United States and NATO have since apologized for the incident, but President Obama's administration continues to appear furious at what they see as Pakistani double-dealing.
---