AQAP bombmaker Ibrahim Hassan al-Asiri emerges as key Yemen suspect
Ibrahim Hassan al-Asiri, a Saudi national accused of being the top bombmaker for Al Qaeda in the Arabian Peninsula (AQAP), is now likely to be a focus of counterterrorism efforts.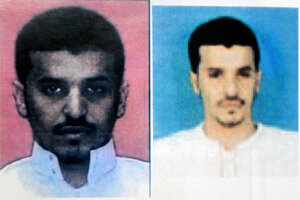 Yemen Interior Ministry/AP
If Saudi Arabian and Yemeni officials are to be believed, Ibrahim Hassan al-Asiri has been honing his bombmaking skills for the past three years and is fiercely committed to the twin causes of Al Qaeda in the Arabian Peninsula (AQAP): Destroying the Saudi monarchy and lashing out at the United States.
Officials say he's the man who likely constructed the well-concealed bombs hidden inside computer printer ink cartridges that AQAP sought to have delivered by air freight from Yemen to Chicago (though some analysts believe the actual intent was to blow up the FedEx and UPS cargo planes over the Atlantic). If true, his skills appear to have improved with practice. Forensic analysts say the bombs demonstrated a high level of sophistication and were likely to be lethal, a big step up from two previous international bombing attempts that authorities say were led by Mr. Asiri.
The construction of homemade bombs has long been a cottage industry for insurgents and terrorists. From Al Qaeda-linked militants in Southeast Asia, to insurgents in Iraq and Afghanistan whose roadside IED's have caused the most casualties in those two wars, cells typically rely on a small cadre of skilled people to build their bombs, and that cadre's skills invariably improve if they avoid capture or death.
---