A stronger Iran returns to nuclear talks in Geneva
Iran began talks Monday in Geneva with world powers eager to curb its expanded nuclear capabilities.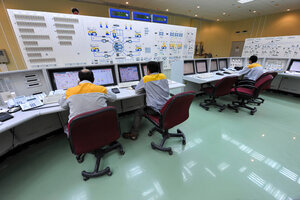 Ebrahim Norouzi/IIPA/AP
Fourteen months after Iran last sat down for "urgent" nuclear talks with the United States and other world powers, negotiators are dusting off their dossiers for highly touted talks Monday.
But some Iranian officials say their nuclear program (which has made substantial progress on nuclear enrichment, despite new sanctions) won't even be on the agenda. And if it is, the political and technical landscape has changed so much in the past year – proof that US efforts have backfired, say analysts – that Iran's hand is stronger going into these talks.
"While Iran is set on pursuing its independent uranium enrichment policy, and when the US is not in a position of starting a new war in the region, time is against Washington," says Kayhan Barzegar, an Iran specialist at Harvard University's Belfer Center for Science and International Affairs.
"Perhaps the Obama administration is now willing to initiate the talks, but it has not reached a final decision yet because it is waiting to see the impact of tough sanctions against Iran," says Mr. Barzegar, contacted in Tehran, where he also serves as a director at the Center for Middle East Strategic Studies. "This is the wrong policy because sanctions will not change Iran's nuclear policy."
---