Energized by Tunisia, Egypt protesters surge onto streets in 'Day of Wrath'
Democracy protesters in Egypt took to the streets in Cairo and at least six other cities, calling for the ouster of President Hosni Mubarak.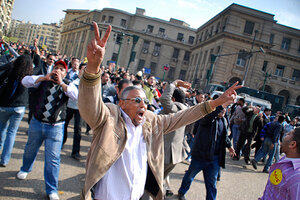 Mohammed Abu Zaid/AP
Tens of thousands of Egyptians defied security forces and poured into streets around the nation in historic protests Tuesday, calling for an end to the autocratic regime of President Hosni Mubarak.
In central Cairo, thousands of people – young and old, rich and poor -- converged on Tahrir (Liberation) Square with a confidence unleashed by the popular uprising that forced Tunisia's president of 23 years to flee to Saudi Arabia earlier this month. When police shot tear gas into the crowd, youths ripped up the sidewalks and hurled pieces of cement at police, turning the square into a battle zone. Several times when the police tried to advance, the crowd surged forward and forced them to retreat.
"This is the result of the pressure that has built up inside us from the corruption, from the repression, from the lack of freedom," shouted student Abdallah Al Fakharany as protesters rushed by him, fleeing clouds of tear gas and police batons. "Look – our government is fighting their own people. Those who are supposed to protect us fight us instead, because we want democracy in Egypt."
---
Follow Stories Like This
Get the Monitor stories you care about delivered to your inbox.