Egypt's Hosni Mubarak: following missteps of ousted Tunisian leader?
Egypt's Hosni Mubarak at first ignored protesters, and then responded with force. 'I don't think Mubarak learned anything from the Tunisian case,' says one observer.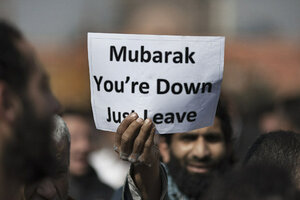 Marco Longari/AFP Photo/Newscom
Tunisia's deposed President Zine Al Abidine Ben Ali seemingly provided the Arab world a textbook in what not to do to avoid being ousted.
Yet instead of avoiding Mr. Ben Ali's missteps, observers say, Egypt's President Hosni Mubarak appears to be taking pages from his playbook.
"I don't think Mubarak learned anything from the Tunisian case," says Mustapha Kamel El Sayyid, political science professor at the American University in Cairo.
In both countries, uncontrollable protests only worsened when police tried to forcefully restrain them; police pulled back and an ensuing security vacuum prompted neighborhood residents to patrol their streets to protect their property; and people gave a joyous welcome to the Army when it stepped in to secure streets.
The similarities in the responses may not bode well for the Egyptian leader, or for the United States. While Tunisia's revolution was a wakeup call to the Arab world and the West, the toppling of Mubarak, America's most stalwart ally in the Middle East and leader of the most populous Arab country, would have far wider consequences for the region.
---