Egypt protesters hang Hosni Mubarak in effigy, hold together in solidarity
Egypt protesters in central Cairo swelled to more than 200,000 today in the biggest demonstrations yet calling for an end to the 30-year-rule of President Hosni Mubarak.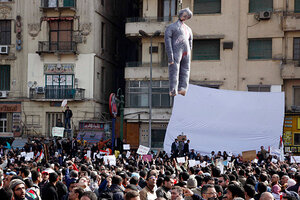 Victoria Hazou/AP
The crowd in central Cairo's Tahrir Square swelled to hundreds of thousands of people today in the biggest protests yet calling for the ouster of President Hosni Mubarak.
The rally had a feeling of increased solidarity, and hoarse-throated protesters showed no signs of letting up as the growing crowds increased pressure for Mr. Mubarak to step down.
"O Mubarak, wake up, today is your last day!" shouted protesters. An effigy of the president was hung from a traffic signal in the middle of the square, and some signs depicted Egypt's president as Hitler.
While the number of protesters was estimated at 200,000, far short of the "million man march" that had been called for today, those present showed no sign of disappointment or wavering. "There's millions of people here!" one man yelled into his cell phones. So many were in the square that cell phone service was spotty. Internet is still unavailable countrywide.
For the first time after a week of protests, checkpoints were formed at the entrances to the square. Separate lines formed for men and women, with men patting down the men and veiled women patting down the female protesters and checking IDs.
Asked who organized the checkpoints, those patting down the protesters denied being from any political group and said, "We're just from the people."
---