In Lebanon, the Hariri tribunal finds itself on trial
A UN-backed international tribunal examining the assassination of former Prime Minister Rafik Hariri threatens a fragile stability in Lebanon, where the government of Hariri's son recently fell over disputes about the tribunal's role.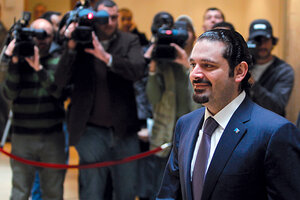 Mohamed Azakir /Reuters
Paris; and Beirut, LEBANON
Justice too long delayed has been called justice denied. But what if that justice, looming in the case of the Special Tribunal for Lebanon, threatens a fragile stability or even ignites civil war?
Those questions underlie the United Nations attempt to prosecute the Feb. 14, 2005, assassination of Rafik Hariri, Lebanon's former Sunni prime minister. That is an eternity ago in Middle East time – and if the first indictment is published in the coming weeks it will arrive after revolution in Tunisia, revolt in Egypt, and as the Arab world appears to be turning further away from relations with the West.
Yet the Hariri tribunal brings a notion of "international justice" into Lebanon's chaotic politics, its communal power-sharing that includes feudal lords and sectarian leaders. Half of Lebanon supports the tribunal; half is strongly opposed.
And the division appears to be hardening. Most troubling are recent antipathies between Sunni and Shiite Muslims that have risen in no small measure due to the tribunal.
---