Renowned Iraqi sculptor has vision for Baghdad to 'flower again'
Iraqi sculptor Mohammad Ghani is working on four new pieces of public art for Baghdad, one of which will include bronze calligraphy from a poem by Mustafa Jamal al-Din.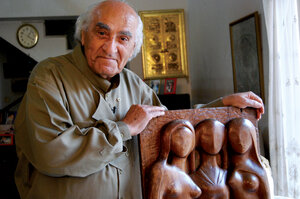 Jane Arraf
Mohammad Ghani, one of Iraq's pioneering artists, barely recognizes the Baghdad he left seven years ago.
"When I left Baghdad I never thought I would stay away so long," says Mr. Ghani, on his first trip back to the city he loves since he escaped the postinvasion violence here. Driving through streets choked with concrete barriers, bombed buildings, and trash, his eyes tear up.
"Baghdad is like a beautiful woman, dressed in white … but now ... her hair is dirty, her dress is dirty," says Ghani, whose career as a sculptor spans 60 years. "I don't want to, but it makes me cry."
He says he was afraid to return but was persuaded by the mayor of Baghdad, who has commissioned him to do four new sculptures as part of the revitalization of the city.
Ghani, who studied art in Rome, created many of Baghdad's best-known landmarks, including the huge public sculptures inspired by the fables of "One Thousand and One Nights": On a busy square in central Baghdad, his statue of Kahramana, in the middle of a fountain lit by garish green lights, pours oil on some of the 40 thieves hiding in jars.
Outside the government-owned Rashid Hotel, an astonished fisherman beholds a genie – a wisp of smoke transformed into a sinuous and powerful woman cast in bronze. And on Baghdad's Abu Nuwas Street, named after one of the most famous Abbasid poets, Shehrazad holds the rapt attention of a lounging King Shahryar.
---