Qaddafi holds no sway over these Libyans
In eastern Libya, local youths – some in uniform, some with guns slung over their shoulders – and tribes that have dropped their support for Qaddafi appear to be running the show.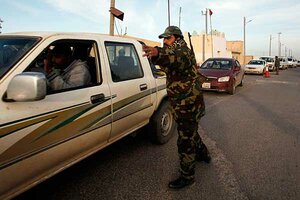 Suhaib Salem/Reuters
At the Saloum crossing from Egypt into Libya, there was clear evidence of the revolutionary upheaval afoot in Muammar Qaddafi's country.
On one side, a dozen journalists were trying to get into a country that's been off limits to genuine reporting for decades. After a few hours of Egyptian bureaucracy, the reporters were waved through to the Libyan side – where there was no evidence of bureaucracy or Qaddafi's regime at all.
A young man in a borrowed uniform without insignia, asked for names and employers, but didn't even ask to see passports. A middle-aged woman with an air of authority and AK-47 on her shoulder – but no uniform – kept an eye on the flow of traffic.
On the other side, thousands of Egyptian migrant workers were pouring out of Libya, fleeing what they fear is a looming bloodbath after Col. Qaddafi called his own people "rats" and "cockroaches" in a national address on Tuesday.
Today at least, that fear wasn't realized. While there were reports of violence in Tripoli and a few other western Libyan cities, in the eastern third or so of the country, where Qaddafi's writ no longer reaches, it was largely peaceful.
---