On International Women's Day, Egyptian women demand revolutionary role
Egyptian women are staging a 'Million Woman March' today after the new prime minister appointed only one woman to his cabinet, raising fears that women will be shut out of building a new Egypt.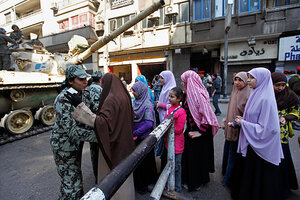 Hussein Malla/AP
On the day when Egypt's revolution began, when huge crowds came out to protest former president Hosni Mubarak's government, women came. When protests turned into battles with police, women faced the tear gas with the men. And when protesters settled in for the long haul and occupied Tahrir Square, women were among those who pitched their tents and slept in the cold.
But though they fought for their nation's freedom, some women now fear they are being sidelined in the process of building the new Egypt. Today, on International Women's Day, they are returning to Tahrir, where the revolution began, for a "Million Woman March" aimed at reminding the nation that they should have a voice in its future.
"When the prime minister came to Tahrir to speak to the people, was he blind? Did he not see that half of the people filling the square were women?" asks Nehad Abu El Komsan, head of the Egyptian Center for Women's Rights, referring to the fact that the new prime minister's cabinet includes only one woman. "If we're not involved in building the constitutional and legislative future of this country now, then when? Why do we see women, who were almost 50 percent of the protesters in Tahrir, not represented in decision-making rooms?"
---
Follow Stories Like This
Get the Monitor stories you care about delivered to your inbox.