French jets hit Qaddafi forces as civilians flee Libya's rebel capital, Benghazi
Forces loyal to Libyan leader Muammar Qaddafi attacked Benghazi this morning, causing an exodus from the city. France responded by launching airstrikes against Qaddafi's ground forces.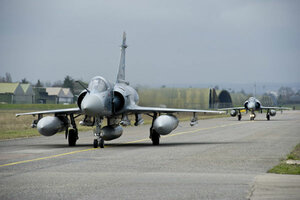 Anthony Jeuland/AP
An assault by forces loyal to Muammar Qaddafi in the heart of Benghazi, the capital of the rebellion against the Libyan strongman's 41-year reign, led to a panicked flight of thousands of residents and tougher action from the international community today.
Mr. Qaddafi's regime had promised a cease-fire repeatedly in recent days. Just yesterday, the country's Deputy Foreign Minister Khaled Kaaim said the government would comply with the United Nations Security Council resolution demanding an immediate halt of the march toward Benghazi, Libya's second largest city.
But the reality this morning in Benghazi was one of tank shelling, rocket fire, and the first attack by Qaddafi loyalists inside the city since a popular uprising drove most of his soldiers out last month. Civilian homes were hit in the process.
France responded by scrambling its own jets around Benghazi this afternoon, and the French government later announced that it had destroyed a government tank.
'No mercy'
Today's attacks by Qaddafi's forces came after a week of threats to show "no mercy" to the rebellion in Benghazi and a psychological operations (psyops) campaign of telephone calls to supporters of the rebellion, promising death.
Panicked residents packed into cars and drove east.
---