Wanted by ICC prosecutor for 'crimes against humanity': Qaddafi
The International Criminal Court's top prosecutor today asked judges to issue arrest warrants for Qaddafi, his eldest son, and his intelligence chief for 'crimes against humanity.'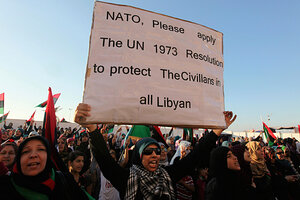 Mohammed Salem/Reuters
The chief prosecutor of the International Criminal Court (ICC) today called upon judges to issue arrest warrants for Libyan leader Muammar Qaddafi, his son Saif al-Islam, and intelligence chief Abdullah al-Sanoussi for "widespread and systematic attacks" that have left thousands of Libyans dead.
"The evidence shows that Muammar Qaddafi personally ordered attacks on unarmed Libyan civilians," said Luis Moreno-Ocampo in The Hague, whose office today presented a 74-page dossier detailing the regime's conduct in the uprising that began three months ago. "His orders are binding ... it's a crime to challenge Qaddafi's authority, and he uses his authority to commit the crimes."
The prosecutor's office had "documented how the three held meetings to plan and direct operations" that included shooting unarmed demonstrators and hunting, imprisoning, and torturing suspected dissidents, he said.
Based on those and other findings, judges will decide in coming weeks whether to issue international arrest warrants for those three Libyans who bear "most responsibility" for civilian deaths. The prosecutor said he is continuing investigations into charges of rape and other war crimes, adding that there would be "no impunity" for the Qaddafi regime in Libya.
An arrest warrant would complicate chances of Qaddafi finding exile outside of Libya. But it also represents a tightening of the legal net at home as regime opponents call for stronger United Nations Security Council sanctions and more effective NATO airstrikes that have been closing in on the Libyan leader.
---