Egypt's Mubarak to stand trial for murder of protesters
If convicted, former Egyptian President Hosni Mubarak could face the death penalty. Protesters are heartened by the trial, and vow to keep pressing their other demands.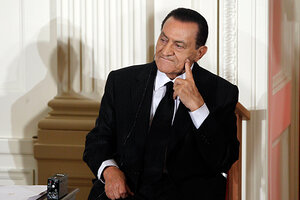 Charles Dharapak/AP
Deposed Egyptian President Hosni Mubarak will stand trial on charges related to the shooting deaths of protesters during the country's 18-day revolt, Egypt's prosecutor-general announced yesterday. The charges could carry the death penalty.
Mubarak, his sons, Gamal and Alaa, and a close business associate, Hussein Salem, also will face charges that they abused their power to amass wealth, the prosecutor-general said.
The charges were announced just days before thousands of demonstrators were expected to rally in downtown Cairo to demand, among other things, tougher action against the Mubaraks, and some activists said the announcement was intended to quash momentum for the protest, which organizers had hoped would draw as many as a million participants.
State media reported that Mubarak remains hospitalized; his two sons are among a slew of former regime officials who await prosecution in a notorious Cairo prison.
No dates were announced for the trials, which will be before a civilian criminal court.
The prosecutor-general also offered no details of the specifics of the case against Mubarak in the shootings. The Associated Press quoted a spokesman for the prosecutor, Adel el Said, as saying that Mubarak and "some police chiefs" face charges in the killings.
A key demand met, protesters keep up pressure on other demands
---