Arab Spring crackdown damages Kurdistan's image as regional model
The US has long championed semi-autonomous Kurdistan as a democratic model for the rest of Iraq and the Middle East. But Kurdish leaders have violently shut down dissenters.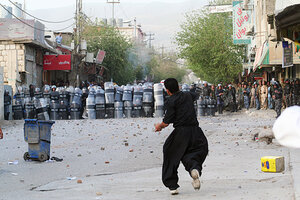 Zmnako Esmail Khalis
Tucked away in an often-overlooked arc of northern Iraq, Kurds launched their "Kurdish Spring" simply enough in mid-February, in solidarity with Tunisians and Egyptians who had toppled dictatorial rulers.
But the result here was very different, and hardly looked like an unfolding of freedom. Washington's close Kurdish allies cracked down hard. After 62 days of street protests, 10 people were dead. The carefully crafted image of Kurdistan as a democratic island in an ocean of regional dictatorship was in tatters.
All that visibly remains of the uprising are a few faded posters of its first victim – a 16-year-old – and scorch marks where security forces burned the tents of protesters. But it has deepened the political crisis in this semiautonomous region of northern Iraq.
Beneath the veneer of restored calm, activists say, is a surging mistrust of Iraqi Kurdish leadership. That could complicate the enclave's relations with the rest of Iraq, especially regarding control of the disputed oil-rich city of Kirkuk.
It could also undermine aspirations among disenfranchised ethnic Kurds outside Iraq – in Syria, Turkey, and Iran – who have long viewed the limited self-rule exercised by their Iraqi brethren as an example of what they could achieve.
---