In Libya's west, rebels rise amid rights concerns, growing pride
The increasingly assertive rebels in Libya's western Nafusah Mountains have committed abuses, Human Rights Watch says today. There's also growing pride, and confidence they're going to win their fight against Muammar Qaddafi.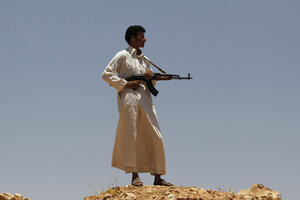 Ammar Awad/Reuters
His name is Bunduq Assim Bunduq but around here everybody calls him "Che."
That is because he never goes anywhere without his red beret and the 26-year-old Bunduq is the ultimate romantic rebel: a well-known singer-songwriter in Tamazight, the long-suppressed language of Libya's Berber minority, he didn't hesitate to pick up an AK-47 when the time came.
After the anti-Qaddafi uprising in his hometown of Zuwara failed a few months ago, Bunduq was forced to escape to nearby Tunisia in a small boat. It was just big enough to hold him and three of his friends. There was no room for his nine guitars.
Now, Bunduq and many young men like him have come to Jadu in the Nafusah Mountains to undergo military training with the rebel army here so they can fight another day. The Nafusah Mountains, it seems, are the new staging ground for people wanting to join the fight against Colonel Muammar Qaddafi's regime.
The uprising in the area has taken control of much of the region in the past month after having been brutally put down by Qaddafi in March. But as the rebels have advanced, some of them have shown a taste for brutality themselves.
In a report yesterday, Human Rights Watch said that rebel forces committed crimes in four Nafusah Mountain towns they seized in June and July. "Rebel fighters and supporters have damaged property, burned some homes, looted from hospitals, homes, and shops, and beaten some individuals alleged to have supported government forces," the group said.
---