Bahrain opposition on verge of pulling out of government talks
Al Wefaq, Bahrain's main Shiite political party, is close to pulling out of the national dialogue to discuss reform, arguing it's only a fig leaf for continued autocracy.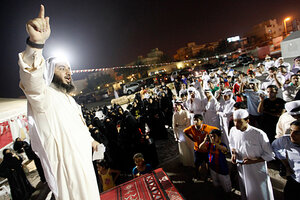 Hamad I Mohamme/Reuters
The largest opposition group in Bahrain is likely to soon pull out of a national dialogue set up by the government to address a political crisis that has been simmering since the government crushed a pro-democracy uprising in the spring.
The talks are structured to dilute the voice of the opposition and give the illusion that the government is addressing political problems when it is actually ignoring them, charges Khalil Al Marzooq, a spokesman for Al Wefaq, the strongest Shiite opposition party. He and three other party delegates have recommended to the leadership that Al Wefaq leave the talks so as not to be part of a government charade. A decision will likely be made soon.
"We entered the dialogue to help the country, to try to reform it from inside," he said by phone from Manama. "But now we believe that we have enough evidence for the international community that the authorities are not serious in reform. … Nobody is responding to us. We cannot continue this, fooling ourselves and fooling the people and fooling the international community that this is a solution."
The national dialogue comes after the government brutally crushed an uprising that began in February in the tiny island ruled by a Sunni monarchy. Protesters, who were mostly from the majority-Shiite population, called for democratic reforms, including a new constitution, an elected government, and an empowered parliament.
---