Iraq signals willingness to allow some US forces to stay
Lawmakers in Baghdad agreed to negotiate a deal with the US that could see thousands of US forces in Iraq to train local forces.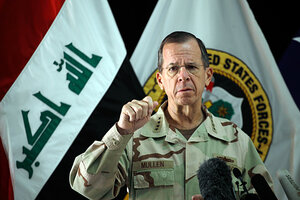 Maya Alleruzzo/AP
Under intense US pressure, Iraqi leaders have agreed to start negotiations on keeping some American soldiers here in a deal that signaled a realignment of political alliances.
Iraq announced the decision after midnight Tuesday following more than four hours of closed-door talks led by President Jalal Talabani between political leaders – some of them bitter rivals.
Long after most reporters had rushed home to beat the 1 a.m. curfew still in force, Deputy Prime Minister Rosh Nuri Shawis emerged to read a statement to state-run television saying the attendees recognized the need for further training of Iraqi military forces.
"All those present agreed to authorize the government of Iraq to start negotiations with the American side," he said, noting the talks would be for training under a long-term framework agreement signed with the US three years ago.
The agreement is the crucial first step, long sought by the US, in negotiations that could lead to several thousand US troops remaining in Iraq after the current status of forces deal expires at the end of this year. Although no numbers have been placed on the size of the force, officials have privately said that a figure of 10,000 was significantly larger than expected.
President Obama made withdrawing all US forces from Iraq a campaign pledge but in recent months, US officials have raised a variety of reasons – including threats from Iran – as why it would benefit both the US and Iraq to have a continued American military presence here.
---