Turkey's military defanged: Is it good for democracy?
The resignation of Turkey's top brass a week ago was hailed as a sign of democratic progress after four coups. But some allege that the military was brought down with fabricated evidence.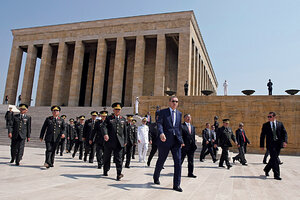 AP
When Turkish Prime Minister Recep Tayyip Erdogan accepted the resignations of his four most senior military officers on July 29, he savored a victory unprecedented in Turkey's modern history: Whenever the government and army had squared off before, politicians had been the ones to go.
But amid celebration of the military's defeat as a waymark of democracy, little scrutiny has been given to allegations that fabricated evidence and the framing of suspects played a role in its downfall.
The military's chief of general staff, Isik Kosaner, said in his parting statement that it was "impossible" to continue serving due to his inability to protect the legal rights of some 250 officers detained for a range of alleged antigovernment plots.
Many of them have been held for more than a year without trial, and publicly available papers relating to the plots reveal significant inconsistencies.
The main document detailing an alleged 2003 coup plot code-named "Sledgehammer," included in an indictment leaked by both prosecution and defense, refers to an organization that was not founded until two years later.
And the timing of many of the arrest warrants and charges has fueled claims that the probes are politically motivated. They are often filed in the lead-up to Supreme Military Council meetings such as this week's, meetings at which the government and army have clashed over military promotions.
---