How US, British intelligence worked to bring Qaddafi's Libya in from the cold
Documents uncovered by Human Rights Watch in Tripoli detail how the CIA and Britain's MI6 worked to develop warm ties with Libya's Muammar Qaddafi after he vowed to give up weapons of mass destruction.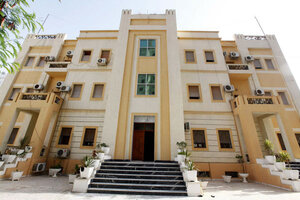 Anis Mili/Reuters
The toppling of Col. Muammar Qaddafi is yielding a trove of Libyan intelligence documents that provide rare insight into American and British spy agencies – and the rendition of terror suspects to a regime known for human rights abuses.
Nearly 300 pages of documents, copied by Human Rights Watch (HRW) from the offices of Libya's external security service, provide unprecedented detail about how the CIA and Britain's MI6 worked closely to bring Libya "on side" and turn a brutal regime from foe into friend after Mr. Qaddafi in 2003 vowed to give up weapons of mass destruction, end support of militant groups, and take on Al Qaeda.
Part of that effort was forcibly returning to Libya key opponents of the regime – including the Libyan who today commands anti-Qaddafi forces in Tripoli – despite knowing the conditions those suspects would face.
"MI6 and the CIA knew absolutely how much torture was taking place. They knew that these people would be abused in custody when they were sent back to Libya," says Peter Bouckaert, the HRW emergencies director who copied the documents in Tripoli and shared them with the Monitor and other media.
"Why else would you hand them over to the Libyans? You captured him, you have all of your black sites anyway, but you offered him to the Libyans," says Mr. Bouckaert, whose organization aims to ensure that all Libya's intelligence and government archives are secured as rebel forces extend control across the country. "Of course the [CIA] letters say, 'Please commit to us that you will respect their human rights.' But that's just talk."
---