In Tripoli, forgiveness reigns for now
Libya's National Transition Council in Tripoli is stressing reconciliation instead of revenge. But not all Libyans are convinced the goodwill will last.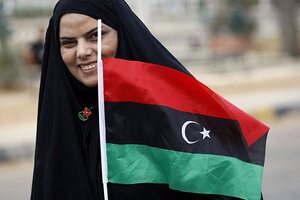 Francois Mori/AP
Vengeful graffiti aimed at former Libyan strongman Muammar Qaddafi and his lieutenants can be found around this city, which is emerging from decades of his brutal reign. But calls for revenge in revolutionary Libya are turning out to be rare sentiments.
Libya's new rulers have instead focused on national reconciliation, forgiveness, and the rule of law at every turn, aware of the risks to the post-Qaddafi Libya of tit-for-tat violence and revenge that bred such instability in Iraq since 2003.
Despite a history of violence that includes brutality against Libyans by Italians during the colonial era, and the psychological and sometimes physical stress of living under Mr. Qaddafi, many Libyans say that the peace that prevails in Tripoli, and the goodwill evident so far, signal the possibility of a relatively calm transition.
There are exceptions. Giant blue letters sprayed across the walls of Abu Salim, Libya's most notorious prison, call for the death of Qaddafi's former military intelligence chief: "In God's name, Abdullah al-Sanoussi will be murdered here in revenge for the blood of the martyrs who died here." Mr. Sanoussi ordered the killing of 1,200 prisoners at Abu Salim in 1996, one of the most brutal events carried out by the former regime.
"Some people like to express themselves, but real action is different; once you implement real justice, this will disappear," says former prisoner Mustafa Krer, after reading the fresh prison graffiti during a visit there with his family.
---