Syria's uprising creeps across Lebanese border
A recent slew of Syrian incursions into eastern Lebanon have stirred up rivalries between Lebanese who support the Assad regime and those who resent its interference in Lebanese affairs.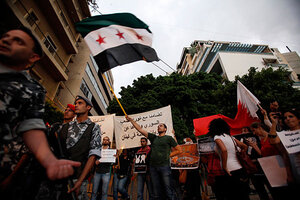 Mohamed Azakir/Reuters
A growing number of cross-border incursions by Syrian troops into Lebanese territory has aggravated political rivalries in Lebanon between those who oppose the regime of Syrian President Bashar al-Assad and those who support it.
Since the beginning of October, Syrian soldiers have penetrated Sunni-populated areas along Lebanon's remote and poorly marked eastern border on a number of occasions, reportedly killing and abducting several people.
Unlike Syria's stronger neighbors – Turkey, Iraq, Jordan, and Israel – Lebanon has long lived under Syria's shadow and is more vulnerable to interference as the Assad regime pursues its crackdown on the Syrian opposition, elements of which have begun to arm themselves and fight back.
"People here have grown used to [Syrian] violations, but what is worrying us is a large operation by the Syrians in Arsal. We are almost positive it is going to happen," says Ali Hojeiry, the mayor of Arsal, a town of 40,000 Sunnis tucked into barren mountains along Lebanon's eastern frontier with Syria.
Repeated incursions, an abduction in Beirut
Two weeks ago, Syrian troops backed by tanks attacked isolated buildings six miles east of Arsal, where farmers cultivate orchards of almonds, apricots, and pears. Days later, a Syrian national was killed on Lebanese soil near Arsal.
---