How a daring band of anti-Qaddafi activists helped turn the tide in Tripoli
Special report: The small anti-Qaddafi Free Generation Movement took huge risks to raise rebel flag and post video of flash protests. The insights they gained in challenging the regime may help shape a new Libya.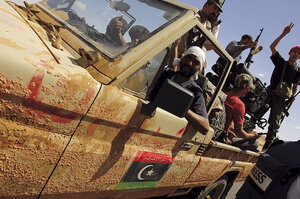 Scott Peterson/Getty Images
The few anti-Qaddafi activists working secretly in Tripoli during the war knew they were racing against time – and to stay ahead of the intelligence agents hunting them.
They were the enemy within, the "rats" Col. Muammar Qaddafi wanted pursued down every alley and inside every closet.
They didn't win the war: The rebel military assaults instead came from the east and then the west. But in Tripoli they took grave risks to raise the rebel flag, spread leaflets, and burned pictures of Qaddafi. Perhaps most important, they filmed and broadcast their actions – heartening fellow Libyans and letting the world know that opposition could exist, even here.
This handful of bold revolutionaries – just 20 in all, most of them family or longtime friends – had a leader, whose nickname is Niz, unafraid to speak out. He was quoted by journalists, used Twitter, and posted to Facebook. His very presence inside the citadel of Tripoli undermined Qaddafi's claim that "all my people love me."
Qaddafi's 42-year rule ended ignominiously Oct. 20 when he was caught begging for mercy in a sewer pipe, then killed, in his hometown of Sirte – the last loyalist holdout after eight months of war backed by NATO airstrikes.
Those events ended an era for a generation that has known only Qaddafi's repressive, idiosyncratic authoritarianism. But for Niz and the Free Generation Movement (FGM) – who fought largely alone, unable to fully trust other small opposition cells, given ubiquitous informers in the city – the story is just beginning.
---