Tunisia elections face unexpected obstacle: youth apathy
The fervor of Tunisia's youth-led revolution, which sparked subsequent uprisings in the region, has been surprisingly absent ahead of Tunisia's elections this weekend.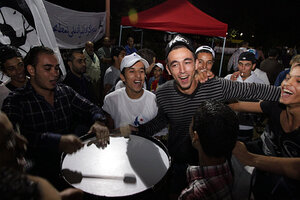 Amine Landoulsi/AP
From their six-month-old office just north of central Tunis, members of the Ennahda party, officially illegal until last March, are scurrying about with cellphones glued to their ears. Men and women in suits enter and exit through the front door at rapid pace and adrenaline permeates the lobby and waiting rooms.
The moderate Islamist party has less than a week to convince Tunisians to vote for its candidates when they head to the polls in the country's first vote since a revolution toppled former President Zine el Abidine Ben Ali on Jan. 14. Across this country of 10 million, the urgency of reaching out to voters is palpable. More than 1,400 candidates are running for a mere 218 seats in a constituent assembly that will draft a new constitution and shape its much-anticipated transition to democracy. More than 60 parties are fielding candidates, in addition to a plethora of independents.
Yet much of the activity in political offices these days isn't so much about convincing the electorate to vote for a particular candidate as it is to simply ensure that Tunisians show up to the polls on Oct. 23. Turnout will be the key to winning influence in Tunisia's future, and signs of what analysts and political parties say is voter apathy, particularly among the youth, suggests that it may be lower than expected.
Despite a January revolution that brought tens of thousands to the streets, a spring of ongoing protests that transcended the country's usual regional and economic disparities, and a summer of heated demonstrations between rival political camps, there is real concern about low voter turnout. Ironically, it is the youth – the same young men and women who took to the streets – who sound most ambivalent about Sunday's election.
---