Tunisia election: Smiles, pride as historic day goes smoothly
Tunisians turned out in droves to vote in the Arab Spring's first democratic election today. Early indications were that voting went smoothly throughout most of the country.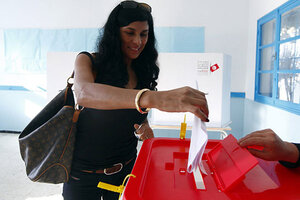 Anis Mili/Reuters
Residents of Tunis awoke this morning to a city decorated in flags, the red and white national colors draped along every street large enough for two cars to pass.
Every few blocks, elementary schools had been transformed into voting stations, marked by a single flag and posters explaining how to cast a ballot in the country's first-ever democratic election. And almost as soon as the sun rose, Tunisians started making their way to vote.
"I'm so proud to be a Tunisian!" said Mabruka Alaib, exiting a polling station in the working class neighborhood of Jbel Lahmar.
"I'm so happy," agrees Sameer Ibrahim, also leaving the station. "You know, this is the first time we vote."
The voting here in Jebl Lahmar – a city racked by protests just last week – took place amid an orderly calm. Ibrahim finished the entire process in a mere 10 minutes.
Voting was orderly and calm, say observers
By and large, this was the experience across Tunisia, say election observers: the mood in polling stations is europhic, and aside from a few minor slip ups, the voting is taking place with impressive technical ease.
"People were very orderly, very patient, they stood in line and they were really straight lines!" says Marwan Muasher, a leader of the National Democratic Institute's observation mission and a former foreign minister of Jordan. "The sun is out now and it is hot, and yet it really struck me: There are a lot of smiley faces."
---